Cambridge University Press (CUP) Open Access Publish Support
Services
NTU library has made an agreement with Cambridge University Press. Authors in NTU can publish in open access journals of Cambridge University Press without paying Article Processing Charge (APC) starting from 2021.
Requirements
1. The corresponding author is affiliated with National Taiwan University.
2. The article accepted date must be Jan. 1
st
2021 - Dec. 31
st
2022.
3. If you have already published a Non-OA article between Jan. 1
st
2021 - Dec. 31
st
2022, you could change your article to OA.
4. The author has to finish transaction process through Rightslink® before Dec. 31
st
2022.
5. Available type: research article, case report, brief report, review article or rapid communications
(More)
CUP OA journal lists
Download
By College: College of Liberal Arts, College of Science, College of Bioresources and Agriculture, College of Engineering, College of Medicine, College of Management, College of Life Science, College of Social Sciences, College of Law, College of Electrical Engineering and Computer Science

Submission and Transaction Steps
Mannuals for Submitting
Manuals for Transaction Process
Find Your Subject Librarian

Other OA Publishing Support
1.SPIE:Since National Taiwan University (NTU) has subscribed to the SPIE Digital Library, the author affiliated with NTU can get 25% discount on the APC. Pay attention that when submitting, you have to fill in "National Taiwan University" in"institution"field. Then, click"Open Access"area and check"One or more authors on this paper belong to institutions that subscribe to the SPIE Digital Library". Finally, type"National Taiwan University"in the column beneath. (View)
2.BioMed Central / Chemistry Central / SpringerOpen
3.PNAS OA
4.Future Medicine/Portland Press


More
● Online Training Webinar: PPT Download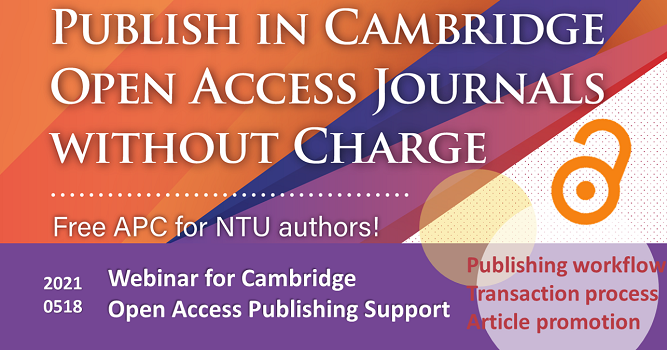 ● Open Access Support Agreement with CUP
● What is Open Access (1-minute video)
● How to publish your article open access? (1-minute video)
● How to judge the quality of OA? (1-minute video)
● How Open is OA – About Open Content Licensing (1-minute video)
● How to access online resources in one click (1-minute video)
● Finding OA content (1-minute video)