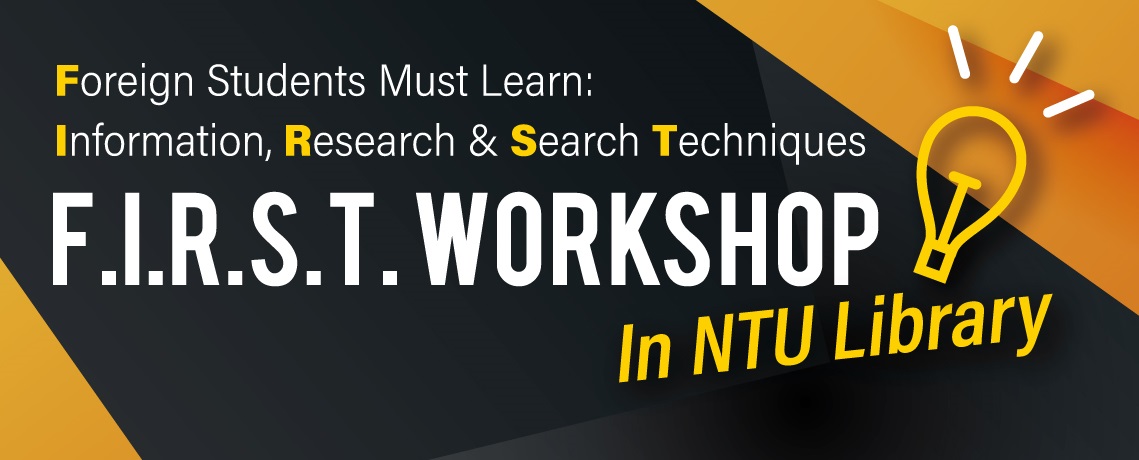 F.I.R.S.T. Workshop in NTU Library
Foreign Students Must Learn: Information, Research and Search Techniques
NTU library presents the F.I.R.S.T. Workshop: a multi-session workshop designed to help foreign and international students learn how to discover and search for useful research resources in library collections and e-resources. All sessions are conducted in English. To join the workshop, register by clicking the links in the "Session Description/Registration" column of the table below.
You can follow us on YouTube and subscribe to the NTU Library Newsletter.
Feedback welcome: Course Satisfaction Survey.
Session List (March to June, 2021)
Session Name
Date/Time
Location
Session Description /Registration
Workshop Materials / Video
(Provided after the session)
Guide to NTU Library's Online Catalog and Discovery System
2021/3/31(Wed.)
14:20-15:20
Room 418, 4F, Multimedia Services Center, Main Library

Link

Workshop Materials
Video
EndNote 20 Reference Manager
2021/5/6(Thu.)
14:20-16:00
Room 418, 4F, Multimedia Services Center, Main Library
Link
Workshop Materials
Video
Web of Science Core Collection Database
2021/6/1(Tue.)
14:20-15:20
Room 418, 4F, Multimedia Services Center, Main Library
Cancelled
Cancelled
SAGE Research Methods Database
2021/6/16(Wed.)
14:20-16:00
Live Stream
Link
Workshop Materials
Video